0
0
wpmaster
wpmaster
2017-04-18 14:47:31
2017-07-25 16:49:13
contact
0
0
wpmaster
wpmaster
2016-11-24 10:38:23
2017-07-25 16:49:43
sitemap
A Taste of Blowfish and Octopus
Himakajima


Getting to Himakajima is the same mode as going to Shinojima, by high-speed boat. Shinojima, Himakajima, and Shirosaki Port at the tip of the peninsula, are linked by high-speed boats or sea taxis that can transport you within ten minutes. You can come and go at any time without making reservations. Because Himakajima is a small island of 5.5 km in circumference, it is possible to get around by bicycle or on foot.

A trip to enjoy the many foods of the sea at Himakajima

Blowfish (fugu) and Octopus (tako)

blowfish and octopus cuisine are specialties of Himakajima. The island has the largest catches of blowfish in Japan, where it is a popular dish in the winter. Freshly caught fish are inspected by those certified in the art of preparing blowfish for sashimi (tessa) and hot pots (tecchiri).
Himakajima islanders have had a relationship with octopus since ancient times. Octopus motifs can be seen everywhere, such as on the lid of a manhole or on the facades of buildings.

EigorouSushi

It's the only sushi shop in Himakajima. Seasonal fish and shellfish are served on the day they are caught. In addition to the specialties of blowfish and octopus, anago (eel) sushi is also superb. Please try sushi made right in front of you by Himakajima chefs.

Taikairō

Himakajima blowfish specialties are usually available on the menu only from November to March, but you can eat blowfish all the time at the tourist ryokan Taikairō near Himakajima West Port. blowfish is served here in different ways, such as sashimi (tessa), hotpot (tecchiri), skin (teppi), and chicken-fried. blowfish fins (hire) are roasted and fried, and put in hot sake (atsukan) to make a spirit which is acclaimed for its richness and flavor by the gourmand.

Tile Art

You can try tile picture-making at Gyarari Oni no Su at the center of Himakajima. Usually taking about 30 minutes, even first-timers should have plenty of time to complete a work of art. The completed tile will be displayed on the island's Tile Art Road. Won't you try making a tile for a memorial of your trip?

Taiyō Resort

In Himakajima, popular octopus dishes are offered throughout the year at all the hotels on the island, including Sun Hotel Taiyou, near Himakajima East Port. You can eat octopus in many ways, such as boiled whole (yudetako), sashimi, chicken-fried, shabu shabu, etc.

Suzuen Main Branch

Takoyaki has long been a popular fast food in Japan. Takoyaki as well as Okinawa octopus, which is made by roasting a fresh whole octopus with shrimp rice crackers, are valued as souvenirs from Himakajima.

Heidi's Swing

There is a place called "Kid's Adventures" on the eastern end of the island, and located there is Heidi's swing. A big swing that swoops into both the sea and sky, it is also known as the "lover's swing". Couples ride together and shout "I love you" towards the sea so that they will be happy forever.

Himakajima Tourist Hotel

At the Himakajima Tourist Hotel, the food served incorporates Chita vegetables in their blowfish and octopus dishes. These vegetables, grown in the rich earth and abundant sunshine of the island, supplement the seafood with vitamins and minerals making the food here especially healthy.
0
0
wpmaster
wpmaster
2016-11-24 10:36:40
2017-07-14 15:47:32
Himakajima Island is famous for seafood cuisine of blowfish and octopus
Minamichita town, a place of culture and history
The Peninsula


The Minamichita region is at the southernmost part of Aichi Prefecture. You can get there from the Utsumi Station, which is just 75 minutes away via Nagoya Railway from Centrair. You can also take Nagoya Railway from Nagoya Station and arrive in just 60 minutes. If you are renting a car it will take 30 minutes from Centrair and 60 minutes from Nagoya Station.

On the peninsula you can enjoy such experiences as meditation training at the Zen temple, creating something at an art or crafts workshop, making rice crackers at the shrimp senbei factory, looking for seashells on the beach, or going into the fields to pick strawberries and flowers, to dig up potatoes, or to harvest a watermelon.

A journey to experience Japanese history and traditional culture

Zenkyu Atelier

Sculptor Zenkyu Niwa, born in in Utstumicho (now Minamichita town), founded a studio there in 1991. His popular art is expressed in the form of stone birds, driftwood sculptures, and sand painting. The natural surroundings of Minamichita inspire his art which is created with an endearing simplicity.

Noma Lighthouse

The Noma Lighthouse is located in the town of Mihama. It is surrounded by an iron fence, and it is said that if a couple attaches a padlock to the fence, their love will prosper. But as a result of the weight of having too many locks attached to it, the fence has collapsed on several occasions. Today there is a new monument in the form of a bell.

Zen Meditation

Zen allows one to see the truth of things by preparing the mind to apprehend this truth. Stabilizing your body by sitting (zazen), helps to harmonize the body, breath, and mind. The zazen posture is the same as that seen in depictions of the figure of Buddha and symbolizes enlightenment.
To do Zen meditation fold your hands and legs together while sitting on the zabuton (cushion) and breathe. Close your mouth and shut your eyes halfway, looking about a meter in front of you. If you become sleepy or your posture slumps or you become distracted, ask the shōsō (priest) to strike your shoulder with a kyōsoku (long flat stick). Afterwards bow your head low and restore your state of mind.

Maruha Resort

Quality Chita cattle are raised on the peninsula. The father of Japanese black cattle, the Chita Holstein cow, is characterized by its soft and sweet-tasting meat. You can experience Chita beef at resort barbecues.

House of Food and Health

Here salt is made by pouring seawater onto bamboo racks supported by wooden pillars, and then the sun and wind evaporate the water. This process is repeated many times, and finally heating in a kiln completes the making of a natural and healthy salt. You can experience salt-making through the experiment laboratory and lecture.

Shrimp Senbei no Sato

The village where shrimp rice crackers are made is a place where your senses will be overwhelmed. At the factory where these crackers are made you can select from the different types and taste them (free coffee and tea are provided). You can also join a class for baking crackers and make your own designs. The factory operates in the hope of making a nation of happy customers.

Cycling

Cycling is best for a flexible itinerary. Take the train from Centrair to Kowa Station, about a 60 minute ride, then another 20 minutes to the Utsumi coast. Rent a bicycle and follow the coast road at your leisure and enjoy the ocean breeze. There is fishing on the coast and from local fishing boats. Enjoy all that the ocean has to offer.
0
0
wpmaster
wpmaster
2016-11-24 10:35:50
2017-07-25 16:48:02
Experience Japanese history and traditional culture at the peninsula of Minamichita
Historic fishing island tour
Shinojima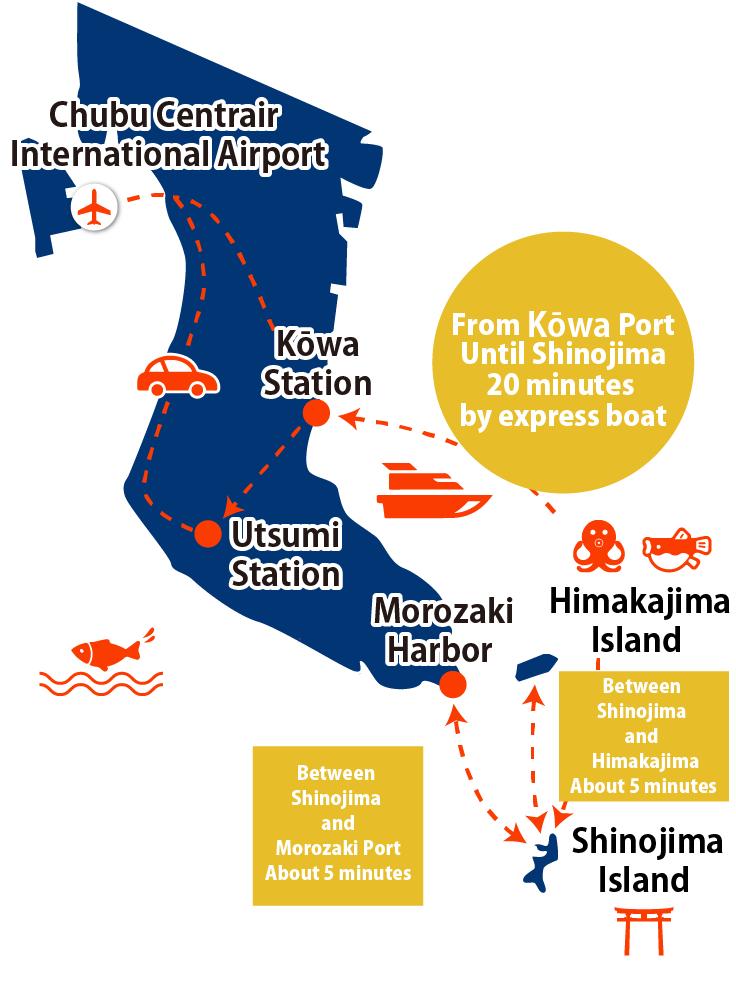 To get to Shinojima take a high-speed boat from Kowa Station. To get to Kowa Station use Nagoya Railways from Centrair, about 60 minutes, or from Nagoya Station, about 50 minutes. From Kowa Station take a free shuttle to Kowa Port and ride the express boat to Shinojima, about 20 minutes.
A trip around the island of mystical Shinojima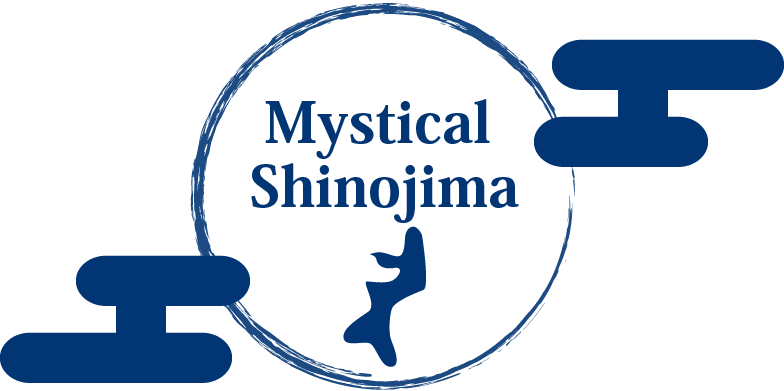 Mystical Shinojima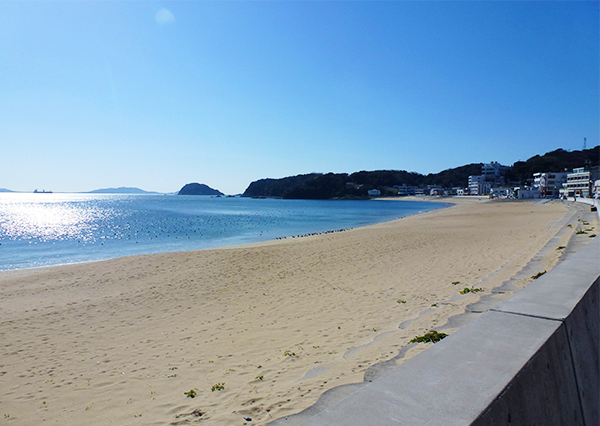 Shinojima is a small island off the coast of the Minamichita Peninsula. Located here is a sacred shrine, Shinmei-jinja, associated with the Ise Jingu, the shrine considered the soul of Japan. The island has preserved its ancient religious traditions and its traditional economy centered around the quaint fishing town. Every year from January 3rd Shinto rites are held, when in the middle of the night the god, Hachioji, comes to the Shinmei-jinja where the goddess Tsuchinomiya is worshipped. In order to protect the goddess, the islanders become her children on this day. As the rites end, the New Year comes to Shinojima, and the islanders return to their duties as fishermen.
Hachioji-sha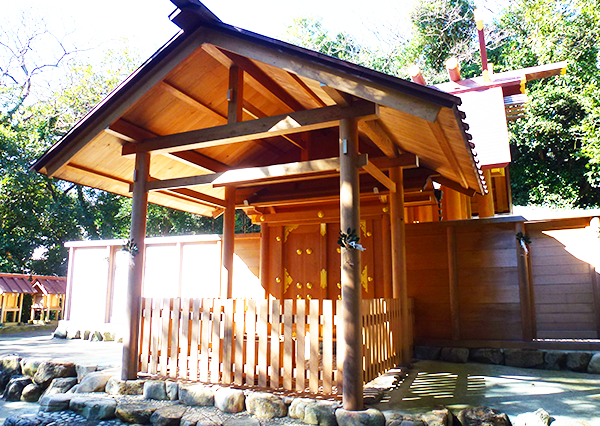 Hachioji shrine was built in 1288 by the kami spirit, Mitama, from the Minowa Shrine of Ise Province. The Hachioji shrine makes use of timbers from Shinmei-jinja, after it is rebuilt every twenty years. The Hachioji enshrines the god of shipbuilding and maritime patronage.
Shinmei-jinja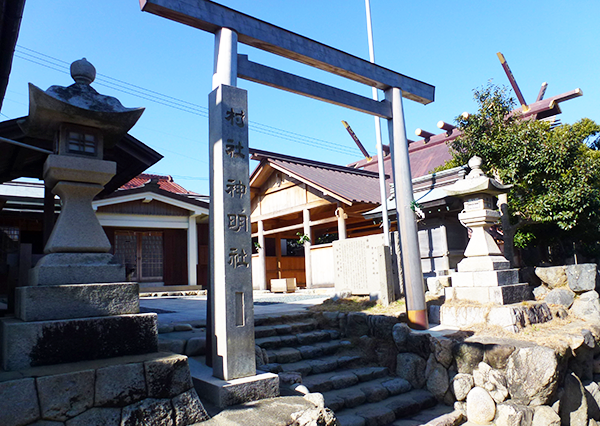 Shinmeiji shrine was first built in the year 771, to welcome Tsujinomiya from Ise Shrine. The shaden (main building of the shrine) is rebuilt from the timbers of the Ise Shrine after Ise is rebuilt every twenty years. For the year of sengū (dedication), rebuilding will take nearly a year on Shinojima. The most recent sengū was in 2015 and the next will be in 2035. Because of the association of its goddess with the god of Hachioji, the shrine represents long-lasting relationships, so attracts young marriage-minded male and female worshippers.
Sandy Beach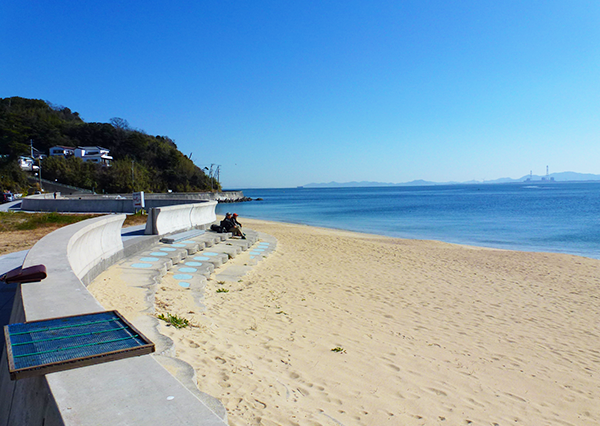 The east coast of Shinojima is a large sandy beach 800 meters in length. The bow-shaped coastline creates a breathtakingly beautiful view of sky and sea. The water is shallow and the ocean floor sand, so that even small children can enjoy swimming. You can experience the beach scene in spring and autumn.
A fishing town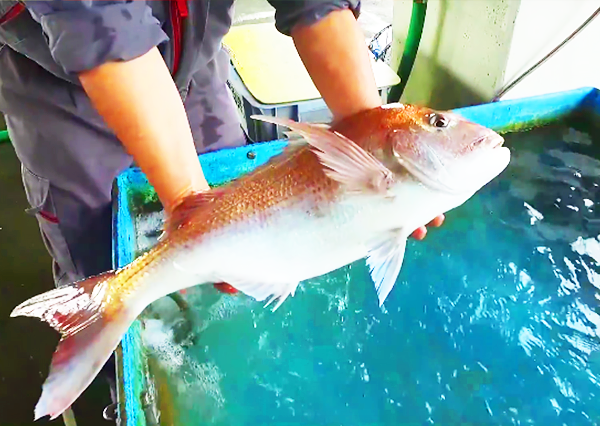 Picture a fisherman with a sun-burned face, smiling, slicing a fish with his knife. Although the fish is served as just raw slices on a simple plate, when you put the rough flesh into your mouth, you will experience the exquisite harmony of wild nature and a delicate taste.
Whitebait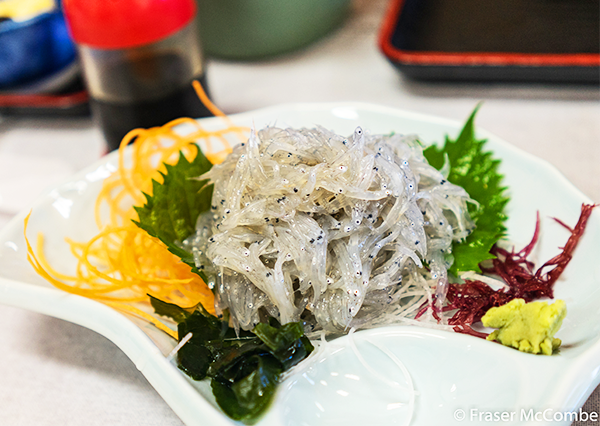 Whitebait (shirasu) is the larva of the anchovy, and Shinojima boasts the biggest catches of shirasu in Japan. When eaten raw it is very delicious when sprinkled over a bowl of rice. The shirasu bowl is a specialty of Shinojima. Generally shirasu is salted and then dried. It is sold nationwide under the name chirimenjako or kachiri. Dried shirasu is seasoned with soy sauce and daikon (radish) . Shirasu provides abundant protein and calcium, making it a healthy addition to the Japanese diet.
0
0
wpmaster
wpmaster
2016-11-24 09:26:50
2017-07-11 14:29:52
Mysterious event takes over Japanese ancient priests at Shinojima Island
The beautiful mountain peninsula of Minamichita spreads into the sea in central Japan between Tokyo and Kyoto.
It is a treasure trove of Japanese history and culture and cuisine.
Tradition and the Minamichita Peninsula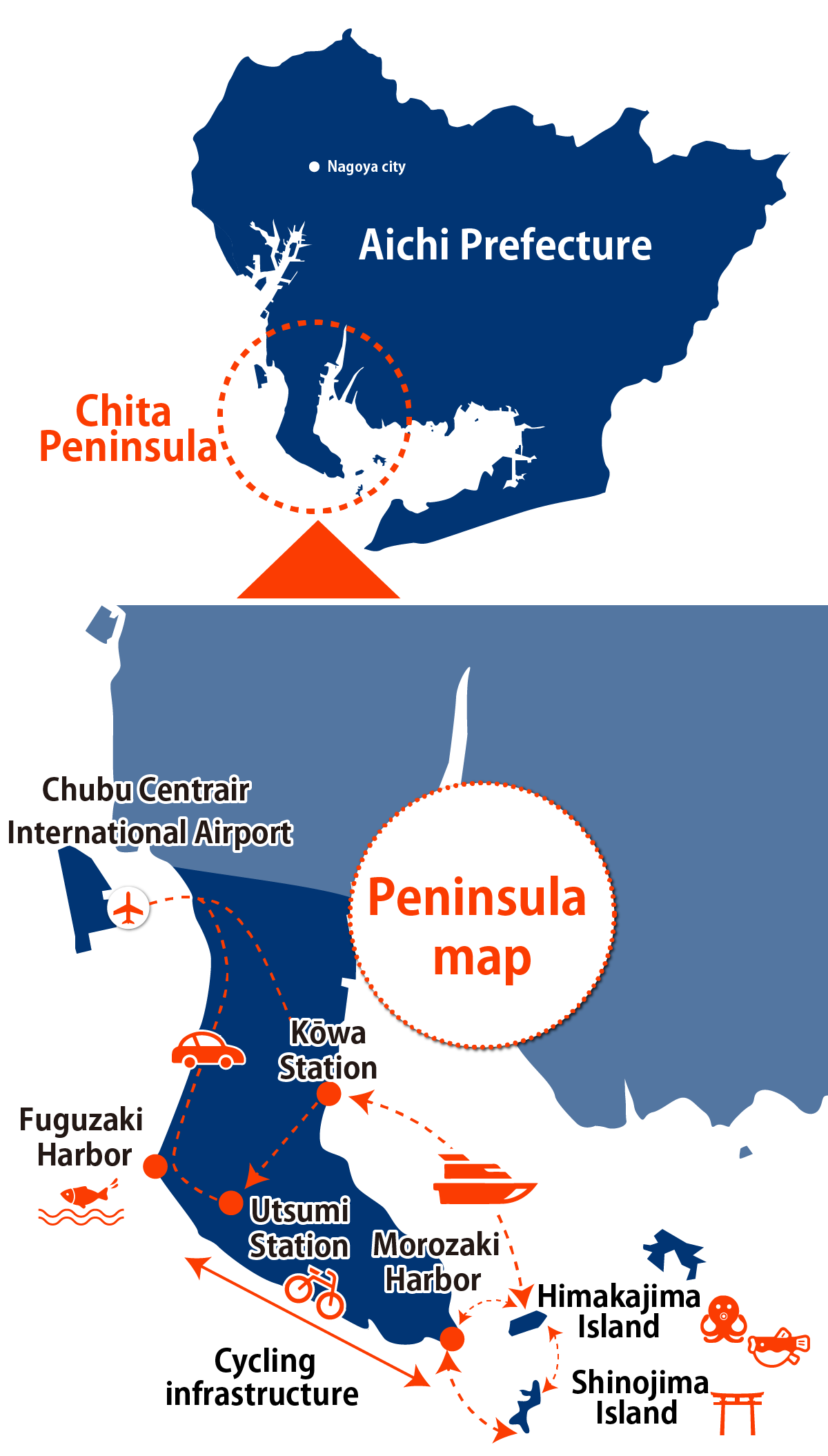 Minamichita is a region composed of a peninsula and the two islands of Shinojima and Himakajima. It is located 60 km (40 miles) south of Nagoya.
The peninsula is one of the leading tourist destinations in Aichi where you can experience the essence of Japanese history and traditional culture, such as meditating at a Zen temple, or visiting artists and craftspeople in their workshops or even doing some fishing.
On Shinojima, the people celebrate the god of the Ise Shrine with venerable, ancient rites. It is a scenic island where the ocean and sky are woven together, and you will find a fishing town of open-hearted people.
Himakajima is a popular place in Aichi to eat delicious seafood. It is the most popular island for tourists as well as residents of Aichi, because they can enjoy the speciality of fugu (pufferfish), and also sushi, octopus (tako), and even shabu shabu.
Minamichita offers three sightseeing experiences.
What kind of experience are you looking for?
For something new, LET'S GO TO MINAMICHITA!
If you would like to independently accomplish your itinerary, a rental car is recommended.
You can rent cars at Chubu International Airport (Centrair) or Nagoya Station.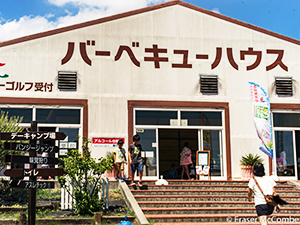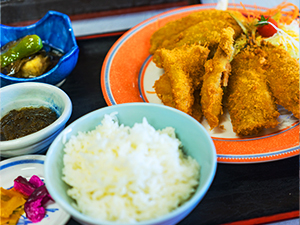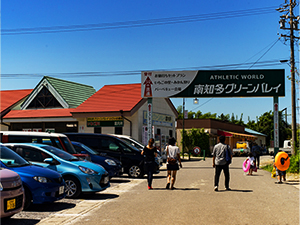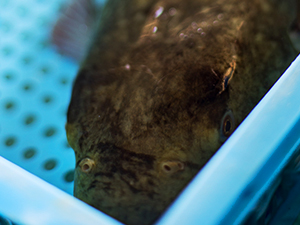 If you want to enjoy the magnificent views of the peninsula, a bicycle rental is recommended.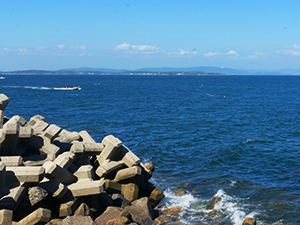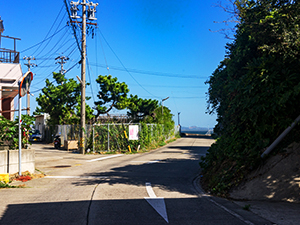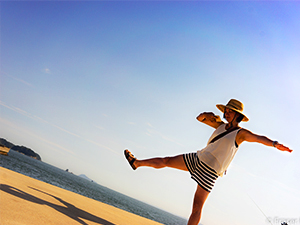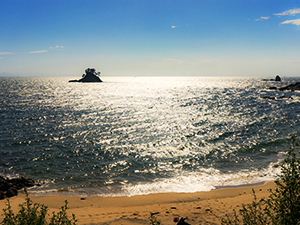 A cycling course starts from the white sands of Utsumi where you will see the islands of Shinojima and Himakajima floating off in the distance.
As you taste the sea winds you will think you are in paradise.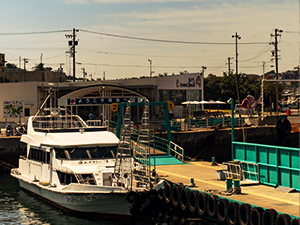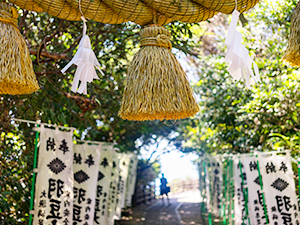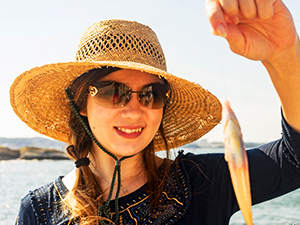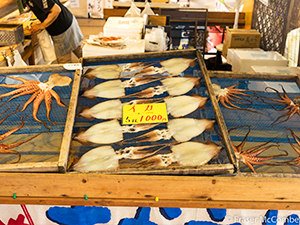 High-speed boats connect Shinojima and Himakajima with the peninsula in just five minutes, no reservations needed.
The charm of Minamichita is that it is possible to go around the peninsula and to both islands all in one day.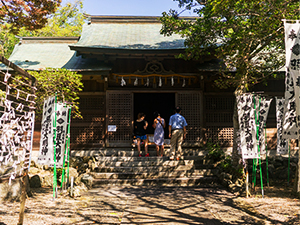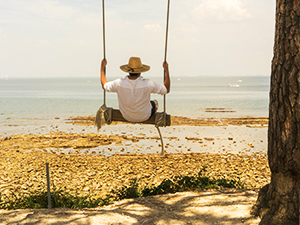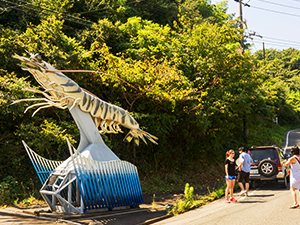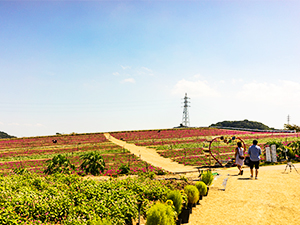 The wonders of Minamichita are waiting for you.
0
0
wpmaster
wpmaster
2016-11-24 07:13:17
2017-07-18 16:31:01
Visit Minamichita to enjoy Japanese history, traditional culture and seafood